This Saturday mom said I would be home alone.  She was going on a day trip to NYC.  I would LOVE to see the city but something about no dogs on the bus- yadda yadda yadda!
Here's a picture of mom w/ her friend and her friend's offspring w/her friend (or in other words-humans). Look at the bunny. Yum-made out of lil lindt chocolate bunnies.  I know, I can't eat chocolate but it would be fun to chase that bunny. I'm sure no one would mind if I happened to knock it over and the bunnies dispersed amongst the common folks to enjoy.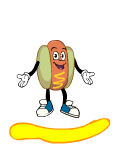 What did I do home alone? My day was spent with
Tula's mom
-fun aunt dee. She took me to good dog class -good dogs don't miss class.  She said Paul the trainer commented that she does a better job handling me.  I don't know.. she just kept feeding me hot dogs. I'll do anything for a hot dog. Then I went to the park and day camp for the afternoon. She was so nice to pick me up from camp go back to the park and feed me until - ahem..my absentee mom arrived home.  Of course I had to get her and Tula a thank u gift.  Let me think. What does fun aunt dee like...
Vino - 
 and Conan O'Brien 
I purchased a tasty bottle of the fermented grapes and this Conan Late Night T-shirt right from the NBC store at Rockefeller Center. She will love it! See!
Hmm what to buy a Tula Monstah. I really know what she likes... 
( I hope she shares too-hint hint) I bought her bag of an assortment of bones.. 
Oh- just checking to ensure the quality.  I wanna make sure she gets the best so I took a peek into the bag. Just a quick peek and maybe a sniff.