hi every boggie!
So I wanted to tell you more about my trip to OH- IO. You see those two cute little faces below. That's Todd on the left and Sara on the right. I stayed with them. Little dogs.. awwww.. so cute.. so friendly-right?
Well I thought the same thing and then this happened.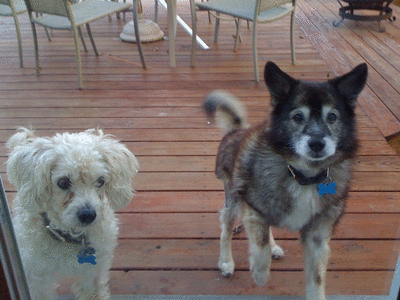 It was like a scene out of Kujo. I was puzzled. I wasn't sure what to do so I sent mom shopping with Bethy. Maybe a peace offering would help. Oh what to choose. Hmm- the ice cream cone just squeaked- can't eat it. The super-sized monkey was too much money and the hat & sweater set- too foo foo.
Mango the RH
has his own day care? Maybe I could stay there..
and be safe under Mango's care.. Then I remembered a recent post of his...