hi every bloggie
This is part two from yesterday's post. I hope you didn't take off your flip flops. The smell of the ocean breeze! Ahh! The sea breeze blowing thru my fuzzies! Ahh... yes. I was born to do this! Look at me! I was being mr. lifeguard watching this lady swim back and forth in the swim area.
Yep move over david hassselhoff! I'm the HNIC (head norwood in charge) Ladies please stop swooning.. okay don't stop.
Here's me practicing my lifesaving- okay ball-saving techniques!
Yesterday the thundering herd watched my short video and heard mom say" he lost his off leash privileges". I think it might have something to do with this....
Umm bunnies are not suppose to hide in bushes on the beach. It ain't my fault. Okay so this was mom's view for awhile until she snatched me up. It was like a game of "where's waldo" but with me.
Do I look like I'm up to trouble? Pretty good -who me? expression right?
I had lots of fun trolling the sand dunes!
And there was tons of shellfish!
A fun crab playing hide n seek and there were snails all over the place! I think my pal Honey the Great Dane would've loved the little crabs.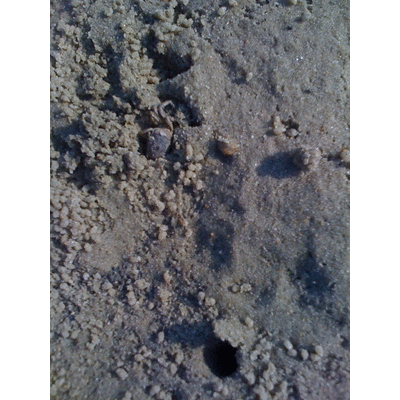 Okay- here's a small snippet that summed it all up!
H & G- Hi and Goodbye! Oh don't forget to wash your feet off. Your mom will NOT want sand all over the house.